What to do in Rio de Janeiro on rainy days?
Those who go to Rio de Janeiro are expecting to find a 40-degree Celsius heat, full beaches and the inviting sea for a swim. But, something that can happen is to rain a lot during the days you took a stroll through the wonderful city. If that happens to you right now, do not worry because Rio will not disappoint you even on rainy days. There are dozens of things and covered areas that you can enjoy getting to know. Check out our tips and enjoy yourself.
Visiting the museums
The first and perhaps most obvious tip of all are museums. Rio de Janeiro has some of the most famous and well-known museums of the country, for all styles and tastes. For example, you can start at the Museum of Contemporary Art (local acronym, MAC), known mainly for being designed by Oscar Niemeyer.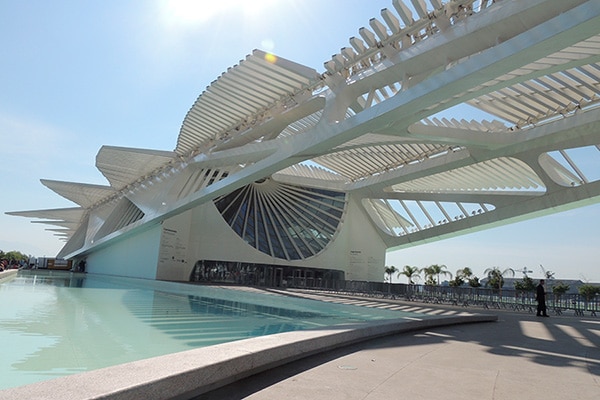 Another museum of mandatory visitation is the Museum of Tomorrow, which was inaugurated in 2015 with an innovative proposal, having works that invite us to think about future and the effect of human activities on the environment. Visiting this museum is like taking a trip into the future and fostering important discussions in the present. The Museum of Tomorrow is located on the Mauá Pier, in Rio's harbor area.
In addition to the two mentioned, you can also visit the Museum of Modern Art (local acronym, MAM), the Rio Art Museum (MAR) and the Banco do Brasil Cultural Center (CCBB).
Take a walk through the most famous churches
Churches are places always full of history and beautiful architectures and, therefore, are considered great tourist points to be visited, regardless of their belief or religion. Rio de Janeiro concentrates some of the most beautiful churches and along with them the history of our country. For example, the consecration of the King of Portugal, D. João VI, and the emperors D. Pedro I and D. Pedro II took place at the church of "Nossa Senhora do Carmo, da Antiga Sé".
If you decide to do a church tour, be sure to visit the beautiful Church "Igreja da Ordem Terceira de São Francisco da Penitência", being all clad in gold leaves and having most of the incredible Baroque details carved by Xavier de Brito, the master of Aleijadinho. It is simply breathtaking.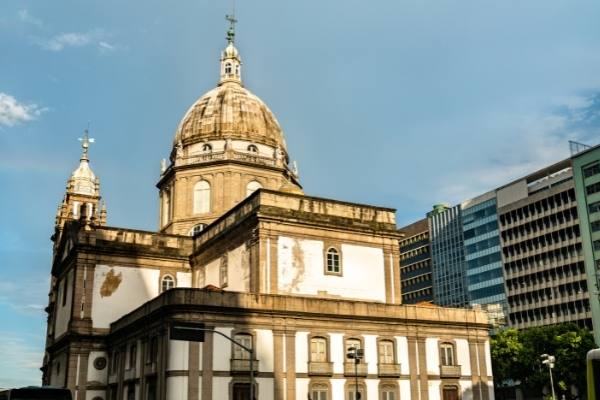 Other interesting churches for visitation are: Mosteiro de São Bento (Monastery of St. Benedict), Igreja da Ordem Terceira de N. S. do Monte do Carmo, Igreja N. S. da Candelária, Igreja Nossa Senhora da Glória do Outeiro, and Catedral Metropolitana de São Sebastião.
Rio de Janeiro is also a city rich in flavors. From simple neighborhood restaurants to some of the most famous restaurants commanded by well-known chefs in Brazil and in the world. How about, for example, visiting the Confeitaria Colombo, a place that was very frequented by celebrities like Machado de Assis (a famous brazilian poet and novelista) and Getúlio Vargas (a brazilian lawyer and politician, who served as President of Brazil). Enjoy traditional tea and nibble some delicious treats.
Lapa is a great and traditional neighborhood for finding good restaurants and bars to eat the delights of Rio. There are dozens of places to eat food for all palates and at affordable prices. In addition, Lapa offers a beautiful view to all visitors. Rainy days can be good also to visit the Maracanã Stadium. The guided tour takes visitors to see areas such as the main lobby, the changing rooms, the room used for press conferences, the lawn, of course, and a sales stand for those wishing to take souvenirs from the place.
For those who love soccer, this is a must-see tour, especially for all the history that Maracanã carries, sometimes of glory and sometimes brazilians would like to forget.
The rain will not ruin your night in Rio de Janeiro, which has an incredible offer of nightclubs, shows, etc. An example is the Circo Voador, which is in the traditional neighborhood of Lapa. The performance venue welcomes renowned artists from our culture, as well as promoting one of Rio's most famous funk parties. With the capacity for more than two thousand people, it is a guaranteed fun place.
In Botafogo, our suggestion is the bar "O Plebeu", which is in an old and very charming house and offers a menu of good imported and national beers. It is a great place to meet friends and watch soccer matches.
It is not possible to take helicopter rides on very rainy and unstable weather, but you can start thinking about that possibility. Look at the weather forecast for the next few days and get in touch with us to schedule your scenic tour of Rio de Janeiro. Getting to know "the Marvelous City", its main sights and its natural beauties from high on board of a helicopter is a unique experience that you deserve to live it.
Browse through our website or call us right now to know details of the tour. We have the best itineraries at affordable prices.
Are you interested in taking a helicopter tour in Rio de Janeiro? Come and see the panoramic flight plans at the Comandante Nobre! (Click here)